Veterinary Care
Cochrane Animal Hospital in Morgan Hill, CA, is your veterinary clinic for accurate diagnostic testing, lab work, routine care, vaccinations, emergency care, and other pet care needs. Our highly trained veterinarian offers cutting-edge technologies and treatments to ensure your pet receives the finest animal care.
Veterinary routine care falls under wellness care in that it provides evaluations, testing, and treatments for common everyday conditions and preventative maintenance. Routine care for your pet is critical to detect and tackle any issues before they become bigger and prevent disease.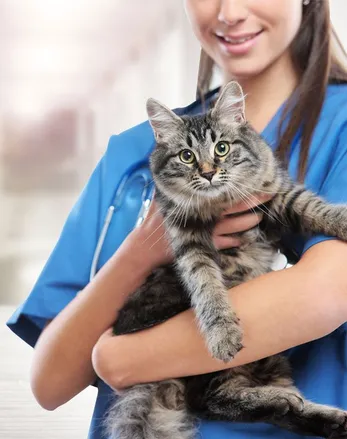 Routine Care
Adult pets usually need yearly routine exams. However, senior animals and young pets may require checkups more frequently. You must follow your vet's instructions and schedule appointments to keep your pet healthy and happy.
Routine care lets our vet see how your pet is doing and if urgent health changes require immediate attention. Spotting issues makes them easier and more affordable to treat, meaning your pet will suffer less discomfort. These are a few routine care services our veterinarian provides:
Routine dentistry
Vaccinations
Heartworm, tick, and flea prevention
Spaying and neutering
Diagnostic lab work and testing
Parasite control treatments
FIV testing
Parvovirus testing
Pet wellness exams
Senior pet care
Kitten and puppy care
How to Prepare for a Veterinary Visit
Preparing for your pet's routine care visit is easy and saves time. This preparation ensures your pet receives the best care and attention. Whether it's a routine check-up or a specific health concern, proper preparation can help the visit go smoothly. Follow the four simple steps listed here:
Bring a copy of any vet records your pet may have to indicate where it received care or vaccinations in recent years.
Take snapshots of your pet's prescription medications, including treats, supplements, and nutritional labels.
Bring a sampling of a fresh stool.
Write down any questions or concerns about your pet's health and wellness.
Call Us for Your Pet's Routine Care Appointment
Our mission at Cochrane Animal Hospital in Morgan Hill, CA, is to provide the ultimate veterinary care with highly trained veterinarians, compassionate staff, and the latest veterinary technologies. Every pet that enters our doors is precious to us, and we are committed to nurturing them to excellent health and wellness.
Call us at (408) 778-7783 or complete our convenient online appointment request form. We can't wait to meet you and your furry family member.