What Are Pet Vaccinations?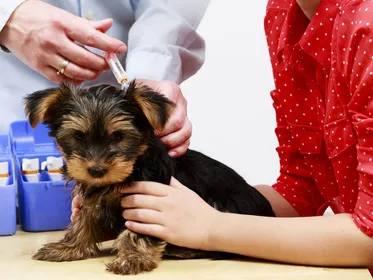 Pet vaccinations are preventive measures to protect dogs and cats from infectious diseases. They are given to your pet by a veterinarian. Vaccines introduce an inactivated form of a virus or bacteria into the animal's body, intending to trigger an immune response. The immune response produces antibodies that recognize and neutralize the disease-causing organism when the animal is exposed to it in the future. If you live in the Morgan Hill, CA, area and need veterinary services, contact Cochrane Animal Hospital. Read below to discover more about vaccinations and how they can help your pets.
Should My Pet Have Vaccines?
Vaccines protect pets from infectious diseases that can make them seriously ill or cause their death. In addition, vaccines can prevent the spread of diseases, like rabies, to animals and humans. While the vaccine has an upfront cost, it can save substantial money. Vaccines also help keep the entire population of pets healthy. Vaccinating your pet can create herd immunity, which helps prevent diseases from spreading. Vaccines are essential to pet health, including regular check-ups to ensure they are healthy.
What Are the Different Types of Vaccinations?
There are two types of vaccines, core vaccines, and non-core vaccines. In general, all pets need core vaccines. These protect pets from contagious diseases and can cause serious health problems. Some specific core vaccines include:
Rabies
Parvovirus
Canine hepatitis
Distemper
Non-core vaccines are needed depending on the lifestyle of the pet. A common non-core vaccine is bordetella for kennel cough and is recommended for dogs coming into contact with other dogs at daycare or a dog park. A non-core vaccine for cats includes one for the feline leukemia virus. Your vet is the best person to divide your vaccinations.
Why Choose Cochrane Animal Hospital?
At Cochrane Animal Hospital, our goal is to provide you and your pet with the most medical care. We understand that visiting the vet can be stressful for you and your pet. As a result, we focus on building a relationship with you and your pet. At every visit, we ensure you fully understand everything happening and the next steps. We use recent technology to provide the highest quality and best care possible. Contact us today at (408) 778-7783 to schedule your next appointment. We would be happy to assist you with whatever you require.